RETURN TO SEARCH RESULTS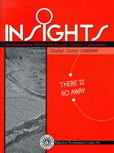 Insights: Grade 6 There Is No Away Student Science Notebook
Author(s): Education Development Center Inc
Edition: 2
Copyright: 2004
Pages: 46
CHOOSE FORMAT
As our population increases, we generate more and more waste materials. In this module, students become aware of what happens to garbage when it is thrown away. They set up controlled experiments that yield information about what happens to organic and inorganic waste; what it means for something to be "biodegradable;" and advantages and disadvantages of various disposal systems.
Throughout the module students are frequently asked "Where is away?" They grow more and more aware of the reality that there is no "away" and that conservation must be a major part of the solution to our trash problems.
Writing is an integral part of learning science in the Insights curriculum, and a critical skill used by scientists. One of the most important tools of the scientist is the science notebook. In this notebook, students will record questions and predictions; observations and data; and interpretations and conclusions. Students may also use this notebook for informal sketches, notes, and reflections on work.
Print
$10.40
ISBN
9780787295127
Details
Print Product Only (SA,CP, Pak, all Print)