Cress Receives 2019 NAGC Master's & Specialist Award
November 7, 2019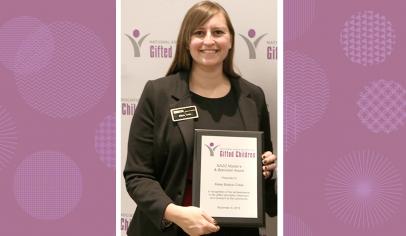 Kendall Hunt Publishing K-12 Division Vice President Charley Cook presented Alissa Salazar Cress, Purdue University with the 2019 Masters & Specialist Award at NAGC 2019 on Thursday afternoon, Nov. 7, 2019, in Albuquerque, New Mexico. Cress was selected because of her work in developing relationships for Purdue's Gifted Education Research and Resource Institute (GERI) with several local schools, as well as planning and delivering professional development. She enjoys guiding pre-service teachers in their pursuit of high-quality teaching and encouraging classroom teachers' effective use of differentiated strategies.
The Master's & Specialist Award is presented to those who have demonstrated at least four of the following: teaching, writing, advocacy, curriculum development, community service in gifted education, juried presentations (local, state or national), facilitating the social and emotional development of gifted and talented students, mentoring/tutoring of children, publication of papers in juried and/or non-juried publications, participation in graduate student research colloquia or teacher in-service/parent workshop.
"Today's high-ability learners not only crave engaging and challenging educational resources; they seek to create connections with encouraging, positive role models and mentors," said Charley Cook, vice president of Kendall Hunt Publishing K-12 Division. "Alissa Salazar Cress is an exceptional example of this, and Kendall Hunt is honored to sponsor an outstanding individual in the world of gifted education."
Kendall Hunt is a proud sponsor of the NAGC Master's & Specialist Award. In addition to a plaque, Cress also received a check for $1,500.