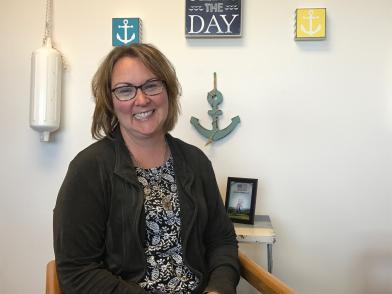 By: Kendall Hunt

The month of June brings about Father's Day, National Donut Day, the first official day of summer, and most importantly, a new KH Spotlight! Among these many things to celebrate in June, we're celebrating Mrs. Angela Kearney.
Angela is the Marketing Manager for the PreK-12 Division. Before joining the Kendall Hunt team, she held various marketing and editorial roles at a number of companies across eastern Iowa. She received her associate's degree from Kirkwood Community College in Cedar Rapids, Iowa. She continued her education at the University of Iowa obtaining her bachelor's degree in journalism and mass communication.
In her current role, she is responsible for all the marketing initiatives within the PreK-12 division. With print and digital advertising, email campaign creation and deployment, copy writing, website developments, and tradeshow marketing, Angela is always busy creating new content.
Married to her husband, Brian, and raising their two children, Brianna and Brevyn together, Angela sees the benefits of her job through her children's education. Kearney explains, "Having a small role in the education of our future (is what I love most about working at Kendall Hunt). My own children use some of our programs in their schools, so I see firsthand how our curriculum aides in student learning. I also enjoy attending tradeshows and hearing educator's talk about our curriculum and what they love most about it. Their passion excites me."
When the office closes, Angela takes a forty-five minute drive back to her beloved country home in Eastern Iowa. During these warm months, Angela and her family spend the majority of their spare time cruising along the Mississippi River. While she also enjoys cooking, decorating, and spending time with family and friends, the Kendall Hunt team enjoys her contribution to the office. Thank you, Angela!