The Importance of STEM Education
July 20, 2016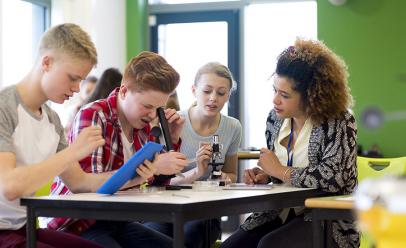 By: Kendall Hunt

More than ever, the importance of STEM education is becoming more and more apparent in today's ever changing world. According to the U.S. department of Commerce, careers in STEM are growing extremely quickly at 17% from 2008 to 2018 compared to other careers growing at a rate of 9.8%. With these numbers to back it up, STEM education is finding its home in classrooms to get young minds interested early in hopes of filling a future workforce void.
Science, technology, engineering, and mathematics (STEM) is so important because it is present everywhere in our daily lives. Technology is continuously growing, examples of engineering surround us and we live in a world where science is all around us. Did you walk across a bridge on the way to your destination today? Engineering. Did you check the weather before leaving the house? Science. Do you invest your hard earned dollars? Math. Do you rely on your smartphone when you're on the go for all forms of communication? Technology. STEM is everywhere we look.
"In the 21st century, scientific and technological innovations have become increasingly important as we face the benefits and challenges of both globalization and a knowledge-based economy. To succeed in this new information-based and highly technological society, students need to develop their capabilities in STEM to levels much beyond what was considered acceptable in the past." (National Science Foundation)
Studies have shown that math and science understanding will be a staple in all jobs moving forward. However, U.S. students are shown to be lagging behind in test scores on these two subjects, further proving the importance of STEM education for our youth and beyond. STEM education develops students' critical thinking skills and provides hands-on learning opportunities for students to explore subjects in ways they may not have had the opportunity in the past.
STEM education is also helping narrow the gap when it comes to ethnic and gender gaps often present in the math and science field. By implementing STEM education in schools, students of all genders and backgrounds have the opportunity to discover a passion for a subject they might not have otherwise. At Kendall Hunt, we support STEM initiatives both at school and at home. We recognize this is not a responsibility teachers should carry on their own. Parents and others should also do their best to encourage participation in STEM activities outside of school. For more activities to do at home this summer in relation to STEM, visit our Pinterest here.