Kendall Hunt Sponsors Wahlert Science Day
December 8, 2017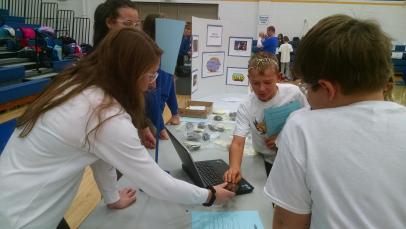 By: Kendall Hunt

Inquiry-based science and hands-on learning are important components of the science curriculum offerings from Kendall Hunt Publishing. We believe that learning through doing allows students to experience what they are learning about in a way that cannot be obtained simply through reading or writing.
With our passion and belief in hands-on learning, we were proud to once again sponsor of the Wahlert Science Day in Dubuque, IA where our home office is located. This event brings fifth grade students from area Catholic schools to Wahlert Catholic School for a day of learning, and fun! Students had the opportunity to participate in a variety of science experiments and activities throughout the morning taught by Wahlert Catholic High School students. These activities covered a wide range of topics and made for a fun, educational morning.
We loved seeing students discover a new appreciation for science! We love being involved in events like this centered around hands-on learning in the Dubuque community and beyond.