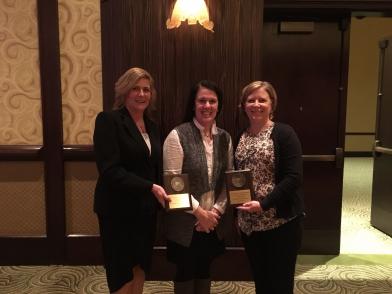 By: Kendall Hunt

Kendall Hunt Publishing Director of K-8 Product Development & Sales Janet Meyers and Gifted Sales Consultant Barb Schoop accepted the 2017 Legacy Book Award for Curriculum Materials for the unit Mind Your Time during the Texas Association for the Gifted & Talented Annual Conference Thursday, Nov. 30, 2017, in Houston, Texas.
The TAGT Legacy Book Awards honor books published in the United States that not only have long-term potential for positively influencing the lives of gifted individuals, but in addition, contribute to the understanding, well-being, education and success of gifted and talented students. The curriculum materials category encompasses supporting materials that educators might use in the classroom, such as workbooks, lesson plans, manuals and classroom activities.
Mind Your Time, authored by the William & Mary Center for Gifted Education, is designed for gifted students in grades 4-5. The focus of the language arts unit is that every person has experienced the effects of time on various phases of their life. Many individuals take time for granted and do not understand the important role it plays in their everyday lives. The reading selections and instructional activities are designed to intrigue and challenge high ability students. Students work independently and in groups doing classwork as well as homework outside the classroom.
Kendall Hunt is a two-time Texas Legacy Award recipient. The Pursuit of Justice, authored by Mary Ann Yedinak was recognized as the 2016 Curricular Materials Award Recipient. Additionally, the Kendall Hunt's Project M3 unit Shopping at the Bazaar: Connecting Number and Algebra with the Meerkats was also considered for the 2017 TAGT Legacy Book Award.
"It's a tremendous honor to have a Kendall Hunt product recognized by the Texas Association for the Gifted & Talented," said Chad Chandlee, president of Kendall Hunt Publishing Company. "The fact that Mind Your Time is a new unit and has been on the market for just over a year makes this honor that much more exciting."
In all, awards were given in four categories from the Texas Association for the Gifted & Talented. The categories include: Curricular Materials; Educator; Parent and Scholar. A total of 22 books were submitted by 9 publishing companies and reviewed by 31 readers.